---
My painting in Steven Soderbergh's new film "Let Them All Talk"
December 2020
One of my paintings in the collection of Cunard Line's elegant transatlantic steamship Queen Mary 2, Phantom Canyon III, shares significant screen time with Meryl Streep, Lucas Hedges, and Candace Bergen in Steven Soderbergh's new film "Let Them All Talk". The painting was usually shown fairly close-up like this in the middle of the screen for minutes of screen time in a total of seven scenes.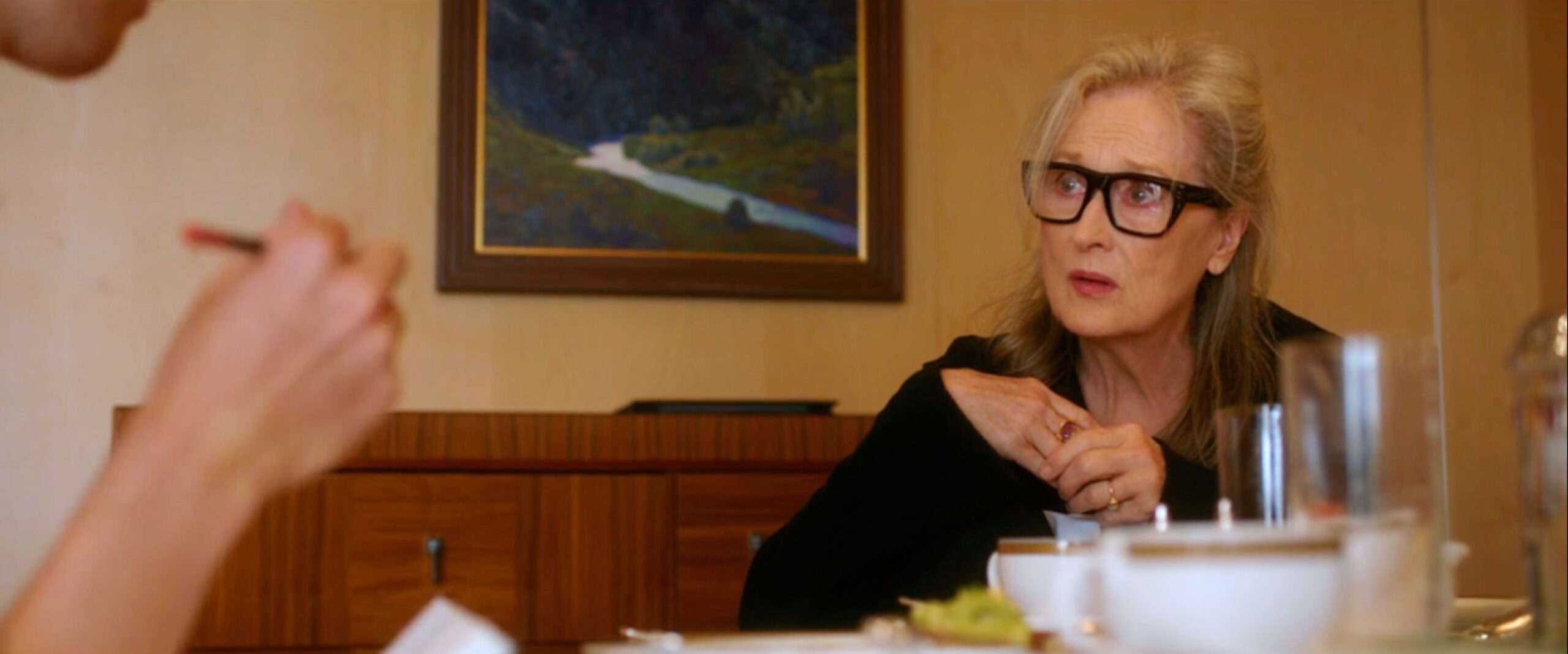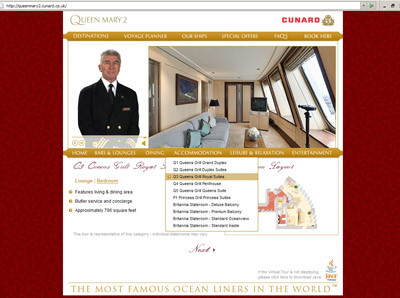 You can see a clip from the movie in this Tonight Show episode where Jimmy Fallon interviews actor Lucas Hedges (whose hand appears in the picture above).
The painting was shown on the Cunard website when they were first introducing the Queen Mary 2 to the world (shown in photo on right.) It is now in the Balmoral Suite as shown in the movie.
My other larger painting in the ship's collection, Broken-Limbed Tree, is in the adjoining Windsor Suite.
Here is a news article covering the matter: "From Canvas to Silver Screen, Local Artist's Work Displayed in Streep, Soderbergh Film".

---
Current group exhibition: Gross McCleaf Gallery / Philadelphia,PA
January 6 – 30, 2021
"Selected Works"
---
Major painting now part of the permanent collection of Minnesota Marine Art Museum
Fall 2020
Thanks to a generous donor, a keystone painting from my touring 2018-2019 museum exhibition America's River Re-Explored has just been procured for the permanent collection of the Minnesota Marine Art Museum in Winona, Minnesota, where it was first exhibited. Alma's Buena Vista, a 40 x 60 inch oil painting, depicts the "good view" of the Mississippi River valley as seen from Buena Vista Park in Alma, Wisconsin. Its new home is in the grand entrance atrium of the museum. You can see the painting here.

---
Back in California
Fall 2020
As of November, my paintings are now available again at Winfield Gallery in Carmel-by-the-Sea, California. Of all the galleries in this town famous for its art galleries, I feel Winfield has the most eclectic yet discerning art available. Check it out.
---
Recent videos
• Video clip shown on the 12/18/2020 episode of The Late Night Show Starring Jimmy Fallon, during an interview with actor Lucas Hedges, taken from a scene with him and Meryl Streep in Steven Soderbergh's latest film, Let Them All Talk. It shows my painting, Phantom Canyon III.
• A short video wonderfully created by Stratos Media Solutions for InScale Architects about the design of my painting studio.
• A very short video introducing some small works on view at the Brinton 101 exhibition in Wyoming.
• A short video introducing the paintings in my 2020 Near Horizons exhibition in Minneapolis.
• Video: Introduction to America's River Re-Explored
• Video: Gallery "Walk and Talk" at the opening of "America's River Re-Explored" at Minnesota Marine Art Museum.

---
Erie Art Museum Quarterly
Summer 2020
Yes, that is my painting Stay In taking up the inside cover of this summer's Erie Art Museum Quarterly magazine. Though apropos of COVID-19 days, it was painted for the 2018-2019 traveling museum exhibition Thomas Paquette: America's River Re-Explored. If you want to know the story behind this unusual painting, check it out here.
---
Recent exhibitions
June 2020
Group: Here and There. EVOKE Contemporary, Santa Fe, NM
April- May 2020
SOLO: Near Horizons. Groveland Gallery, Minneapolis, MN  / Video here.
Feb-Mar 2020
SOLO: Thomas Paquette: From the Surface. James K. Schmidt Gallery, Principia College, Elsah, IL
Sep 2019
SOLO: Thomas Paquette: Defined by Water.  Gross McCleaf Gallery, Philadelphia, PA
Nov – Dec 2019
DUO: Thomas Paquette & Mikel Wintermantel : The Enduring Landscape. Tri-County Arts Council, Olean, NY
Apr 2018 – Jul 2019
SOLO traveling museum exhibition:
America's River Re-Explored – Paintings of Mississippi from Source to Gulf
       • Minnesota Marine Art Museum – 2018
       • Watermark Art Center – 2018
       • Dubuque Museum of Art – 2019
       Videos for this exhibition:
              • Introduction to America's River Re-Explored narrated by Thomas Paquette
              • Gallery "Walk and Talk" at Minnesota Marine Art Museum

---
COVID-19 exhibition/book
Cero Gallery in Longwood, FL, is creating a survey of works produced by painters in response to, or reflective of, these pandemic days of 2020. The online project and future book is titled The Great American Paint-In. You can see one of my paintings on their project site here.

---
Recent major acquisitions
In fall, 2020, Minnesota Marine Art Museum procured Alma's Buena Vista for the permanent collection.
In spring 2020, Erie Insurance purchased the large oil painting, Cleft [60 x 46 inches, oil on linen] for their collection.
Dubuque Museum of Art and Principia College added small oil paintings to their permanent collections in 2019 and 2020.
Fox Creek Crossing [64 x 63 inches, oil/canvas] was acquired in 2019 for the Erie Art Museum's permanent collection from a private collector in Miami, FL, who owned the painting since 1990, when it was first shown at the Bass Museum of Art.
In 2018, the State Department acquired the large painting, Headlands [50 x 40 inches, oil/linen] for permanent installation at the breathtaking new NATO Headquarters in Brussels. This and selected other Paquette paintings from twenty Art in Embassies exhibitions can be seen here. Headlands was created for the solo museum exhibition, On Nature's Terms.
---
Recent interviews, articles and reviews [more complete bibliography here]
Thomas Paquette, WPSU public television, July 2019
Life on the Mississippi by Rochelle Belsito, American Art Collector, April 2019
A conversation with painter Thomas Paquette by Katie Carter, KBXE-FM and Minnesota NPR affiliate stations, September 2018
Artist carries his work and its message to a wide audience by NPR Morning Edition host Jay Moran, WBFO-FM, Buffalo, NY, September 2018
The Mississippi and More. Thomas Paquette of Warren has his own style by Brian R. Sheridan, Lake Erie Lifestyle Magazine, July 2018
Atmospheric Lands by John D. O'Hern, American Art Collector, September 2018
America's River Re-Explored by Charley Parker, Lines and Colors, July 2018
What Might Happen? Thomas Paquette's Mississippi River Odyssey by John Hulsey, The Artist's Road, June 2018
Thomas Paquette's Visions of the Mississippi River by Dean Klinkenberg, Mississippi Valley Traveler, April 2018
<More Bibliography here>

---